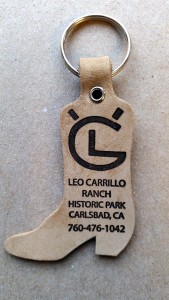 Membership Includes: an informative newsletter with information on park history, upcoming projects and events, and a specially designed limited edition boot keychain. Be the first to know what is happening at the Ranch; become a member!
How to Join or Renew: Annual dues (Jan. 1 – Dec.31) are $15.00 per individual or couple. We accept individual or couples memberships.
To join or renew fill out an application online.
You can also print and complete the membership form, and send a check made payable to the Friends of Carrillo Ranch, Inc. (FOCR) for your dues, along with this detachable sheet to: P.O. Box 130145, Carlsbad, CA 92013-0145
A member's personal information is never shared with a third party.
FOCR Contributions and Accomplishments
Participation in the award-winning Park Master Plan
Stewards for the National Register and California Historic Landmark listings
Donation of the entire Cisco Kid TV series (156 episodes) – in English & Spanish
Donation of a Library of Leo Carrillo motion pictures
Donation of Ralph Edwards "This is Your Life, Leo Carrillo" video
Three (3) Automated External Defibrillators
DVD Video of Leo Carrillo Ranch Historic Park for the Visitor Center
Pass-through donations of artifacts and memorabilia from the private sector
Signage improvements
Grants: Foundation, Corporate, Private, State and Federal
Fourteen (14) Park Benches
Offering an award-winning California History & Art program to local 4th grade students since 1997
Title I school bussing grants for the 4th grade California History and Art program
Donation of a golf cart for visitors with challenges/ difficulties
Reconstruction and restoration of original stone entrance pillars