Leo Carrillo Park Improvements
Stables Restoration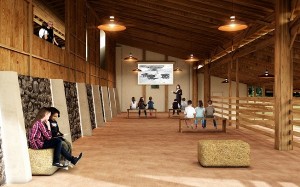 Per the Leo Carrillo Ranch Park Master Plan (1998), and the Leo Carrillo Ranch Park Master Plan Phase III Priorities and Cost Estimate Update (2015), the work associated with the stables restoration includes installation of new concrete flooring; repair and restoration of existing clay tile flooring; repair and restoration of interior and exterior walls, windows and doors; repair of worn wood features of the bunkhouse and animal pens; restoration of the porches on the north and south side of the stable; installation of interior lighting and security system; drainage improvements; and replacement of the 20 year old wood shingle roof.
The stable and bunkhouse areas are expected to be used for public and private events and will include interpretive displays. Additionally, the historic corrals and bull pen post and plank fencing previously located between the stable and chicken coop will be reconstructed. The project will require installation of drought tolerant landscaping and irrigation in selected areas around the stable, as needed for storm water management.
Chicken Coop Reconstruction/New Restroom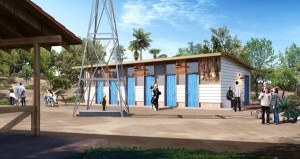 The second part of the project consists of the construction of a new public restroom facility equipped with plumbing and a janitorial storage area. The public restroom will be located in an area south of the stables where a dilapidated chicken coop once stood. The structure will be designed to replicate the original facade of the chicken coop, incorporating horizontal wood cladding. Additionally, the project will feature installation of drought tolerant landscaping and irrigation in selected areas around the restroom.
All work on the projects will comply with the Secretary of the Interior Standards for the Treatment of Historic Properties Standards for Reconstruction.
Latest Status / What to Expect—
The park will remain open during construction, however access to the stable and chicken coop areas will be restricted. Access to the path and east footbridge to Deedie's House will also be restricted.
Work is expected to be complete in summer 2018.
There may be construction noise from time to time.  We'll make every effort to limit noise, especially in the early morning.
Routine Construction Hours
Monday – Friday, 7:30 a.m. – 5:00 p.m., excluding city holidays
Outdoor Interpretive Sign Plan
The primary objective of the outdoor interpretive sign plan is to welcome and orient the visitor, while providing meaningful connections with Leo Carrillo, ranch history, and the native people, plants, and ranch residents before and during Carrillo's time at the Ranch. The plan will be implemented during a three year timeframe beginning in late 2016.
For more information
Mick Calarco, 760-434-2859, or  mick.calarco@carlsbadca.gov